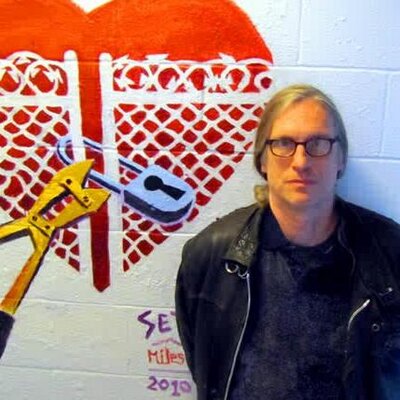 Authors
Seth Tobocman
Indulge in a book or dvd
Book and movie events
Get the latest news
What others are saying...
For more from Seth

Seth Tobocman is the cofounder of World War 3 Illustrated. He is the author and illustrator of five graphic books, including You Don't Have to Fuck People Over to Survive, Portraits of Israelis and Palestinians, and Understanding the Crash. He has participated in exhibitions at ABC No Rio, Exit Art, the Museum of Modern Art, and the New Museum of Contemporary Art. His illustrations have appeared in the The New York Times among many other publications.

Check out his website HERE.

Purchasing Links

World War 3 Illustrated: 1979–2014
Editors: Peter Kuper and Seth Tobocman • Introduction by Bill Ayers
Publisher: PM Press
ISBN: 978-1-60486-958-3
Published: 05/14
Format: Hardcover
Size: 10 x 8
Page Count: 320
Subjects: Art/Politics/Illustration
$29.95

Founded in 1979 by Seth Tobocman and Peter Kuper, World War 3 Illustrated is a labor of love run by a collective of artists (both first-timers and established professionals) and political activists working with the unified goal of creating a home for political comics, graphics, and stirring personal stories. Their confrontational comics shine a little reality on the fantasy world of the American kleptocracy, and have inspired the developing popularity and recognition of comics as a respected art form.
This full-color retrospective exhibition is arranged thematically, including housing rights, feminism, environmental issues, religion, police brutality, globalization, and depictions of conflicts from the Middle East to the Midwest. World War 3 Illustrated isn't about a war that may happen; it's about the ongoing wars being waged around the world and on our very own doorsteps. World War 3 Illustrated also illuminates the war we wage on each other—and sometimes the one taking place in our own minds. World War 3 artists have been covering the topics that matter for over 30 years, and they're just getting warmed up.
Contributors include Sue Coe, Eric Drooker, Fly, Sandy Jimenez, Sabrina Jones, Peter Kuper, Mac McGill, Kevin Pyle, Spain Rodriguez, Nicole Schulman, Seth Tobocman, Susan Willmarth, and dozens more.
Praise:
"World War 3 Illustrated is the real thing. . . . As always it mixes newcomers and veterans, emphasizes content over style (but has plenty of style), keeps that content accessible and critical, and pays its printers and distributors but no one else. If it had nothing more than that kind of dedication to recommend it, it would be invaluable. But it has much, much more."
—New York Times
"Reading WW3 is both a cleansing and an enraging experience. The graphics remind us how very serious the problems and how vile the institutions that cause them really are."
—Utne Reader
"Powerful graphic art and comic strips from the engaged and enraged pens of urban artists. The subjects include poverty, war, homelessness and drugs; it's a poke in the eye from the dark side of America, tempered by what the artists describe as their 'oppositional optimism.'"
—Whole Earth Review
"This is art—not marketing—on the newsstand. It represents the sort of creativity too rarely given an outlet in comics. It's the best and longest running alternative comics anthology around."
—Comics Journal
"The artists of World War 3 have forged a space by turns harsh and exciting, honest and rowdy, boisterous and straight-forward, always powered by the wild and unruly harmonies of love. It's a space where hope and history rhyme, where joy and justice meet. Their voices provoke and soothe and energize. I want to hear more."
—Bill Ayers, founder of the Weather Underground
Events
For a calendar of speaking events, please click here
Latest Blog Entries
What Others Are Saying...

Interviews & Mentions
Reviews
World War 3 - It's the end of the world as we know it, and I don't feel fine
By Ben Marks
BoingBoing
December 11th, 2014
But in the hands of founders Seth Tobocman and Peter Kuper, along with an ever-changing roster of new and returning artists—from Eric Drooker, Sabrina Jones, and the late Spain Rodriguez, to Sue Coe, Art Spiegelman, Chuck Sperry, and Tom Tomorrow —
World War 3
has been more than a vehicle for artists to vent their anger, although many of them have done that exceedingly well. More importantly,
World War 3
has been a place to build a counter narrative to the pablum ladled into the trough we know as the mainstream media, a place where the most unflinching and searing critiques can bud and flower before blasting the corpulent ruling classes to smithereens.
Read more
|
Buy book now
|
Download e-Book now
|
Back to reviews
|
Back to top

World War 3 Illustrated in The New York Times Gift Guide
by Holland Cotter
New York Times
November 28th, 2014

F
ounded in 1977 by Peter Kuper and Seth Tobocman, World War 3 Illustrated is a collective of artist-activists working in the political comics mode, and this book amounts to what you trust will be a midcareer survey of its work thus far. More than a dozen fantastic artists, including Sue Coe, Eric Drooker and Sandy Jimenez, take us, in graphic sequences composed of shadow and light, from the 1980s culture wars to the war in Iraq, from the Reagan White House to Zuccotti Park and Tahrir Square. This is history recorded with a scathing precision. Morality meets hilarity. You find yourself shocked that you're laughing.
Buy book now
|
Download e-Book now
|
Back to reviews
|
Back to top
Horror than Hope: The Comic Art of World War 3 Illustrated
By M.C.
Library Journal
September 15th, 2014

George Washington, Mahandas K. Gandhi, and Martin Luther King Jr. led rebellions against injustice, and the fight goes on worldwide. For the past 35 years, World War 3 Illustrated has published progressive comics commentary on macro- and micropolitical struggles, and this anniversary anthology presents 80-plus selections grouped roughly by theme. Police brutality, environmental issues, women's empowerment, 9/11, Hurricane Katrina, and the Occupy movement, for example, all come to life here in personal as well as broader narratives. Always passionate and striking, the pieces range from "Jesus Is Suffering for You," Mike Diana's primitively drawn but explicit and devastating satire on Sunday school through "K-9's First Time," K-9 and Fly's somber account of a nine-year-old girl pressured into sex (finely crafted pen-and-ink drawings) to Kuper's teal-washed inks about the Israel/Palestine hostilities. An especially cutting send-up, also from Kuper, slams George Bush as anti-health insurance and prowar but in the color kiddy cartooning style of the old Richie Rich comics.

VERDICT While background notes would have clarified selections lacking contextual details, this disturbing yet stirring sampler of views, topics, and techniques for activist comics should prove enlightening and inspirational reading.

Buy book now | Download e-Book now | Back to reviews | Back to top
The Best Collection of Radical Comics You May Ever Read
by Bill Berkowitz
Daily Kos
October 22nd, 2014

As you read through this strikingly designed book, one cannot can't help but admire those many young, often obscure and struggling courageous comic book artists and cartoonists who, with unbridled passion, took on unpopular issues, bashed stereotypes, tore down walls, and smashed icons.

As Kuper and Tobocmen point out in their Editor's note: "In many ways WW3 represents a microcosm of the type of society we'd like to see -- a place where people of various backgrounds, sexual orientations, and abilities pull together to create something that benefits the whole."

Read more | Buy book now | Download e-Book now | Back to reviews | Back to top


World War 3 Illustrated: A Review
By Nicholas Jahr
Jewish Currents
November 16th, 2014

"We didn't begin WW3 with a formal manifesto," the editors write in their introduction (entitled… "Manifesto"). It shows. There was no house style, no hard line to tow. Instead World War 3 called up a riot of styles, a frenzy of technique and imagery, a lot of brutal black-and-white and the occasional effusion of orgiastic color. The vernacular of mainstream comics was deployed in only the most perfunctory sense; recruits looked elsewhere, borrowing from many of the major trends of 20th century painting: Surrealism, Cubism, expressionism, woodcut, collage, photorealism, airbrush, graffiti… the list probably goes on.

Read more | Buy book now | Download e-Book now | Back to reviews | Back to top


Changing the world with comics
by Gretchen Wagner
San Francisco Book Review
4/5 stars

This is a very good book for what it is, but parts are a pretty rough read. World War 3 magazine is a comics venue for anti-establishment, shake-the-status-quo, even revolutionary artists whose purpose is to shock readers into action. It is not gratuitous, but it will definitely be shocking to many; it is not for children. The drawings and stories deal with intense and very mature themes such as violence and sexuality, oppression, and hypocrisy in war, government, and politics. The story of the Tuskagee syphilis experiments; Hurricane Katrina survivors; global warming; homelessness and poverty; incarceration; and 9-11 NYC all share pages here, in powerful art that marries text with illustration to perfect effect.The book is very politically liberal, way too partisan, which is a shame, because that diminishes its credibility as a speaker of truth, exposing injustice wherever it is found; I wish some balance had been added. Nevertheless, it tells important stories that are worthy reading for anyone who is willing to look deeply at all facets to find the truth of things. These comics are individual, raw, exceedingly biased precisely because they are so personal, and will stay with the reader for a long time to come.

Buy book now | Download e-Book now | Back to reviews | Back to top
Seth Tobocman: Making a graphic statement in the Bangalore Mirror
By Jayanthi Madhukar
Bangalore Mirror
August 25th, 2014
As a

multimedia

comic book

artist, Seth

Tobocman

speaks out

against

injustice

through his

works
The bespectacled Seth Tobocman, with his hair tied back into a neat ponytail, can hold his audience spellbound with a dramatic narration of a story. This kind of narration is usually accompanied by live music. On a screen behind him, appear mostly black and white cartoon panels that he has drawn. It is those visuals and the stories accompanying them that make people sit up and listen. Tobocman calls this kind of audience interaction Cartoon Concert, a form he attributes to Vaughn Bode, an American cartoonist in the 1970s. "Bode would project his panels and perform the text," says Tobocman. "I chose those pieces that work well with a dramatic reading and sometimes also employ musicians to give atmosphere."
Read more
|
Buy book now
|
Download e-Book now
|
Back to reviews
|
Back to top


Horror than Hope: The Comic Art of World War 3 Illustrated
By Paul Buhle
Dissent Magazine
July 24th, 2014

It is safe to say that nothing, in the annals of comic art, has ever resembled World War 3 Illustrated. New issues have come out more or less annually for the past thirty-five years, though they have not always been easy to locate West of the Hudson river; distribution has not been a strong point, but the art, rarely repetitive or clichéd, has been. Year to year and decade to decade, it has been drawn by new hands, in a continual effort to bring along young artists committed to social themes but groping for their own way forward. Luckily for comic enthusiasts everywhere, this remarkable body of work is now collected in an oversized, chock-full volume.

Read more | Buy book now | Download e-Book now | Back to reviews | Back to top


World War 3 Raged for 35 Years
By Steven Heller
The Atlantic Magazine
July 3rd, 2014

They started World War 3 Illustrated also because in 1979 mainstream comics publishers wanted capes and tights. And "the remaining underground comics publishers also had a formula to sell their books that was pretty narrow," Tobocman says. "Book publishers had not yet learned the phrase 'graphic novel.'"

So the duo conceived of a self-funded magazine, which now spans 45 issues, as an outlet for scores of other comics, grafitti and street artists, including Tom Tomorrow, Sabrina Jones, Eric Drooker, Ward Sutton, Sue Coe, Isabelle Dervaux, and more. "The magazine sort of generates its own energy in that there is a constant stream of new artists joining the group," Tobocman says. "There are today people working on the magazine who are younger than the magazine itself."

Read more | Buy book now | Download e-Book now | Back to reviews | Back to top


Thirty-Five Years of Bashing Seterotypes, Tearing Down Walls, Smashing Icons and Visionary Cartooning
By Bill Berkowitz
Truthout
July 5th, 2014
"In 1979, in the wake of a meltdown at Three Mile Island, the founding of the Moral Majority by the Rev. Jerry Falwell, the murder of gay politician Harvey Milk in San Francisco's City Hall, the Iranian hostage crisis and the impending election of Ronald Reagan, Seth Tobocman and Peter Kuper, two art students at Pratt Institute in Brooklyn, decided the time was ripe for an antiwar comic book.
Jerry Siegel and Joe Shuster, two guys from Cleveland, had revolutionized comic books in 1938, with the publication of a story called Superman: Champion of the Oppressed, in Action Comics #1. Forty-one years later, Tobocman and Kuper, who grew up in Cleveland and knew each other since the first grade, were ready to create a home for political comics, graphics and stirring personal stories..."
Read more
|
Buy book now
|
Download e-Book now
|
Back to reviews
|
Back to top
Seth Tobocman on Clocktower Radio
by Will Corwin
Clocktower Radio
June 2nd, 2014
Seth Tobocman visits Clocktower Radio to talk with host Will Corwin about the heady days of 1980, when his magazine of politically charged and innovative comics got started. World War 3 Illustrated was founded by Tobocman and Peter Kuper and is celebrating it's 35th anniversary with an anthology of the last 35 years.

Seth discusses the miasma of comic activity that was taking place at the same time-- Harvey Pekar's American Splendor and Art Speigelman's Raw. He also discusses his activity on the Lower East Side with tenants' rights and the Tompkins Square "riots" which Corwin remembers well from his days at the neighborhood public school, PS 70.
Listen to more
|
Buy book now
|
Download e-Book now
|
Back to reviews
|
Back to top


World War 3 Illustrated: A Review on Comics Grinder
by Henry Chamberlain
Comics Grinder
June 23rd, 2014
"There is a stark beauty to be found in the 320 pages of this full-color special collection of comics, World War 3 Illustrated 1979-2014, published by PM Press and set for release this July. I call it a stark beauty for good reason. I think it is the most economical way to express the urgency and the severity of the issues being confronted. It's also a quick way to say that this is thoughtful and vital art that you'll find in this collection of some of the best work to appear in the semi-annual anthology, World War 3 Illustrated."
Read more
|
Buy book now
|
Download e-Book now
|
Back to reviews
|
Back to top


Kuper & Tobocman Celebrate "World War 3 Illustrated": Comic Book Resource
By Alex Dueben
Comic Book Resource
May 14th, 2014
With extensive careers in art, illustration and comics, childhood friends Peter Kuper and Seth Tobocman founded "World War 3 Illustrated" ("WW3") in 1979, an anthology series with a left-wing political focus. Edited by various creators over the years, "World War 3 Illustrated" contributors include artists James Romberger, Sandy Jimenez, Sue Coe and more. Kuper and Tobocman continue to edit and contribute to the anthology, distributed in the modern era by Top Shelf....CBR News spoke with Kuper and Tobocman about the anniversary of "WW3" and its impact on comics and social movements, as well as the publication of PM Press' big 35th Anniversary hardcover and the lasting impact of "World War 3 Illustrated" as an anthology.
Read more
|
Buy book now
|
Download e-Book now
|
Back to reviews
|
Back to top


World War 3 Illustrated, A Review
Publishers Weekly
June
In addition to providing a history of the eponymous political comics anthology, this collection also traces the development of the progressive politics that came to define the Occupy movement of 2011. Appropriately, the collection ends with that explosive protest. It begins with the East Village squatting scene, viewed through the comics of the period, and covers broader topics like police brutality, women's rights and religion, with a New York-centric focus. As the anthology stomps through the years, 9/11 is discussed, along with Israel, Hurricane Katrina, the Bush presidency, the Oaxaca riots, and other trouble spots. At times, the comics resemble the cartoonish agitprop that has become standard in radical protest over the decades, and readers' appreciation of them will depend as much on their agreement with the authors' views as on the aesthetic merits. Still there is no disputing the passion and conviction on every page. The best work-particularly that of Peter Kuper and Eric Drooker-uses biographical elements to personalize the topic. Far ahead of its time, World War 3 paved the way for the more established forms of comics journalism now. Even when the passion on display here overcomes craft, this is an indispensable collection of groundbreaking comics. (June)
Read more
|
Buy book now
|
Download e-Book now
|
Back to reviews
|
Back to top


World War 3 Illustrated, An 'Open Platform For Protest' Celebrates 35 Years At MoCCA Fest
by Hannah Means Shannon
Bleeding Cool
April 8th, 2014
"Moderator Calvin Reid of Publishers Weekly introduced a small battalion of WW3 editors and contributors, and we later learned that a number of contributors were waiting quietly in the audience also, listening to what their colleagues had to say. One of the landmarks that dignified the panel event was the recent release of the Kickstarter-funded large hard back anthology collecting selected comics in a topic-based and chronological system of arrangement, essentially telling the history and the concerns of WW3 Illustrated over the years..."
Read more | Buy book now | Download e-Book now | Back to reviews | Back to top
More from Seth...