The Future Generation: The Zine-Book for Subculture Parents, Kids, Friends & Others (e-Book)
SKU:
9781629634500d
Author:
China Martens
Publisher:
PM Press
ISBN:
9781629634500
Published:
9/2017
Format:
PDF, ePub, Mobi
Size:
7 x 10.5
Page count:
240
Subjects:
Family-Relationships / Feminism
China Martens started her pioneering mamazine The Future Generation in 1990. She was a young anarchist punk rock mother who didn't feel that the mamas in her community had enough support, so she began publishing articles on radical parenting in an age before the internet.
The anthology of her zine, The Future Generation: The Zine-Book for Subculture Parents, Kids, Friends & Others, was first printed in 2007 and has been out of print for many years. Covering sixteen years, it uses individual issues as chapters, focusing on personal writing, and retaining the character of a zine that changed over the years—from her daughter's birth to teenagehood and beyond.
We are proud to present a tenth-anniversary edition including a new afterword by China's grown daughter, Clover. The Future Generation remains a timeless resource for parents, caregivers, and those who care about them. Though first published in the 1990s, many of the essays and observations—about parenting, children, and surviving in a hostile political climate—still ring true today. The next four years are going to be especially demanding for those trying to balance parenting, politics, and survival. We're going to need the voices and experiences in The Future Generation now more than ever.
Praise:
"The original punk parent zine."
—Ariel Gore, Hip Mama
"Martens has been writing since long before the mommy wars were a media trope, but her work is a powerful response to punditry casting institutional and political problems as personal issues of 'work-life balance' for mothers (notably, not fathers)."
—Lisa Jervis, Bitch magazine
"The Future Generation is a must read for anyone who wants to understand Adrienne Rich's idea of mothering (Of Woman Born) based on the mother's own experience, not the patriarchal definition of motherhood in which mothers must be surveilled, controlled, advised, and punished. For here is an evolution of mothering, a memoir of a conscious mother. Get it. Read it. Pass it on."
—Katherine Arnoldi, author of The Amazing True Story of a Teenage Single Mom and All Things Are Labor
"I am deeply inspired by The Future Generation. I remember feeling seen, held, and affirmed when I read the anthology. I felt like I had a sister in all the complex things I was feeling as a new mother."
—Mariahadessa Ekere Tallie, author of Karma's Footsteps and Dear Continuum: Letters to a Poet Crafting Liberation
"The Future Generation is deeply touching and eye-openingly intimate."
—Jordannah Elizabeth, author of Don't Lose Track
About the Author:
China Martens is a zinestress extraordinaire based in Baltimore, MD. Her first book, The Future Generation, is a compilation of sixteen years of her first zine. She is also the coeditor of Don't Leave Your Friends Behind: Concrete Ways to Support Families in Social Justice Movements and Communities and Revolutionary Mothering: Love on the Front Lines.
See and hear author interviews, book reviews, and other news on China Marten's page HERE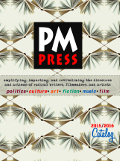 Your cart is currently empty
Subtotal: $0.00