Libertarian Socialism: Politics in Black and Red (e-Book)
SKU:
9781629633909d
Editors:
Alex Prichard, Ruth Kinna, Saku Pinta, and David Berry
Publisher:
PM Press
ISBN:
9781629633909
Published:
8/2017
Format:
PDF, ePub, Mobi
Size:
5.5 x 8.5
Page count:
368
Subjects:
Politics-Anarchism/Politics-Socialism
The history of anarchist-Marxist relations is usually told as a history of factionalism and division. These essays, based on original research and written especially for this collection, reveal some of the enduring sores in the revolutionary socialist movement in order to explore the important, too often neglected left-libertarian currents that have thrived in revolutionary socialist movements. By turns, the collection interrogates the theoretical boundaries between Marxism and anarchism and the process of their formation, the overlaps and creative tensions that shaped left-libertarian theory and practice, and the stumbling blocks to movement cooperation. Bringing together specialists working from a range of political perspectives, the book charts a history of radical twentieth-century socialism, and opens new vistas for research in the twenty-first. Contributors examine the political and social thought of a number of leading socialists—Marx, Morris, Sorel, Gramsci, Guérin, C.L.R. James, Hardt and Negri—and key movements including the Situationist International, Socialisme ou Barbarie and Council Communism. Analysis of activism in the UK, Australasia, and the U.S. serves as the prism to discuss syndicalism, carnival anarchism, and the anarchistic currents in the U.S. civil rights movement.
Contributors include Paul Blackledge, Lewis H. Mates, Renzo Llorente, Carl Levy, Christian Høgsbjerg, Andrew Cornell, Benoît Challand, Jean-Christophe Angaut, Toby Boraman, and David Bates.
Praise:
"Libertarian Socialism: Politics in Black and Red is an invaluable contribution to historical scholarship and libertarian politics. The collection of essays contained in the book has the great virtue of offering both analytical perspectives on ideas, and historical perspectives on movements. The contributions examine classical themes in anarchist politics such as individual liberty, whilst also exploring more neglected thinkers and themes from a libertarian standpoint, such as C.L.R. James and race. There can be little doubt that the volume will be of major interest to historians, theorists, students and activists."
—Darrow Schecter, reader in Italian, School of History, Art History and Philosophy, University of Sussex
"Just what we need as we move into a new phase of revolt against the obscenity of capitalism: a recovery of the richness of our different traditions of struggle, with their weavings and bumpings. Time to move on, time to redeem the struggles of the past. A valuable and welcome collection."
—John Holloway, author of Change the World Without Taking Power and professor of sociology, Autonomous University of Puebla
"This is a welcome and essential collection that is sure to spark debates and support ongoing efforts to build a liberatory movement in which Marxists and anarchists can find common ground and practice mutual respect and humility. In this period of late-capitalism, survival itself is at stake. Theory and practice, whether Marxism or Anarchism in their many manifestations, lead to dead ends without careful assessment of the world as it is now."
—Roxanne Dunbar-Ortiz, author of An Indigenous Peoples' History of the United States
"An important, redemptive collection of essays that questions narratives of sectarian difference without resorting to easy answers. In exploring the productive frictions, convergences, agonisms and affinities that have created and re-created the 'black and red,' the contributors recover the neglected histories of a capacious Left, one that repudiated ideological rigidity and sterile orthodoxies without abandoning its socialist commons. Itself a model of such capaciousness, this is a stimulating and necessary work."
—Raymond B. Craib, associate professor, Department of History, Cornell University
About the Editors:
Alex Prichard is senior lecturer in International Relations at the University of Exeter. He gained his PhD from Loughborough University in 2008 for work on the international political theory of Pierre-Joseph Proudhon. Dr Prichard is coeditor of the Contemporary Anarchist Studies monograph series published by Manchester University Press and was coeditor of a 2016 special issue of Capital & Class on ideological convergence on the left.
Ruth Kinna works at Loughborough University in the UK. She is the author of Kropotkin: Reviewing the Classical Anarchist Tradition (2016) and writes on historical and contemporary anarchist politics. She is editor of the peer-review journal Anarchist Studies.
Saku Pinta gained his PhD from Loughborough University in 2011. His research brought to light the history of the IWW and libertarian socialism more broadly. He is the writer and coproducer of To My Son in Spain, (2009) a documentary that tells the story of Finnish-Canadians from Thunder Bay who joined the Mackenzie-Papineau Battalion of the International Brigades to fight in Spain.
David Berry is senior lecturer in History at Loughborough University. He has published widely on the history of the anarchist movement in France and in particular on the thought of Daniel Guérin. He is the author of A History of the French Anarchist Movement, 1917–1945 and coeditor with Constance Bantman of New Perspectives on Anarchism, Labour and Syndicalism: The Individual, the National and the Transnational.
See and hear editor interviews, book reviews, and other news on Alex Prichard's page HERE, Ruth Kinna's page HERE, Saku Pinta's page HERE, and David Berry's page HERE.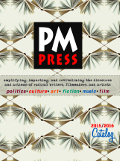 Your cart is currently empty
Subtotal: $0.00