Songs of the Dead
SKU:
9781604860443
Author:
Derrick Jensen
Publisher:
PM Press/Flashpoint
ISBN:
9781604860443
Published:
3/2009
Format:
Paperback
Size:
5 x 8
Page count:
320
Subjects:
Fiction, Thriller, Politics
A serial killer stalks the streets of Spokane, acting out a misogynist script from the dark heart of this culture. Across town, a writer named Derrick has spent his life tracking the reasons--political, psychological, spiritual--for the sadism of modern civilization. And through the grim nights, Nika, a trafficked woman, tries to survive the grinding violence of prostitution. Their lives, and the forces propelling them, are about to collide.

Derrick's current project is a book called Possession, which asks the ontological question of who is responsible for the culture of domination that's destroying the earth. Who actually benefits from a dead planet, the endgame that's fast approaching? What if the answer is something way bigger than humans? Meanwhile, with motivations opposite to Derrick's, the serial killer is asking much the same question of the women he kidnaps as his final act of possession--and Nika is next.

Derrick's metaphysical explorations suddenly take on more urgency as visions both terrifying and sacred begin to intrude, and past and future collapse without warning. All Derrick knows is Nika's name and her impending death. The only person who believes him is his partner Allison, a woman with both strengths and scars, whose past has led her to a commitment to justice no matter what the cost. As the visions intensify and the killer draws nearer, Derrick and Allison are compelled to act, making themselves the next targets. Derrick must learn to negotiate a world of spirits and demons, living and dead, before it's too late. And what hangs in the balance is not just their lives, but also the fate of life on earth.

With Songs of the Dead, Derrick Jensen has written more than a thriller. This is a story lush with rage and tenderness on its way to being a weapon.
About the Author:
Hailed as the philosopher poet of the ecological movement, Derrick Jensen is the widely acclaimed author of Endgame, A Language Older Than Words, The Culture of Make Believe (a finalist for the 2003 J. Anthony Lukas Book Prize), and Walking on Water, among many others. Jensen's writing has been described as "breaking and mending the reader's heart" (Publishers Weekly). Author, teacher, activist, and leading voice of uncompromising dissent, he regularly stirs auditoriums across the country with revolutionary spirit. He lives in Crescent City, California.
Reviews:
"Derrick Jensen is a rare and original voice of sanity in a chaotic world. He has wisdom and wit, grace and style, and is a wonderful guide to a good life beautifully lived."
—Howard Zinn, author of A People's History of the United States
"Derrick Jensen is a public intellectual who both breaks and mends the reader's heart."
—Frances Moore Lappe, author of Diet For A Small Planet
"Derrick Jensen is a man driven to stare without flinching at the baleful design of our culture... His analysis of our culture's predilection for hatred and destruction will rattle your bones."
—Daniel Quinn, author of Ishmael
See and hear author interviews, book reviews, and other news on Derrick Jensen's page HERE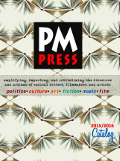 Your cart is currently empty
Subtotal: $0.00