Ideas for Action: Relevant Theory for Radical Change, 2nd Ed. (e-Book)
SKU:
9781629631479d
Author:
Cynthia Kaufman
Publisher:
PM Press
ISBN:
9781629631479
Published:
6/2016
Format:
PDF, ePub, Mobi
Size:
6 x 9
Page count:
352
Subjects:
Political Theory / Politics-Activism
Written in an engaging and accessible style, Ideas for Action gives activists the intellectual tools to turn discontent into a plan of action. Exploring a wide range of political traditions—including Marxism, anarchism, anti-imperialism, postmodernism, feminism, critical race theory, and environmentalism—Cynthia Kaufman acknowledges the strengths and weaknesses of a variety of political movements and the ideologies inspired by or generated through them. Kaufman incorporates elements of her own activist experiences and presents a coherent analysis without pretending to offer "the final word" on complex issues. Instead, she helps orient a critical understanding of the social world and a glimpse of the excitement and rewards of serious intellectual engagement with political ideas.
Fully updated to confront pressing issues of today—from mass incarceration to climate change, from the war on terror to the national security state, from rising inequality to a global shortage of care, Ideas for Action also examines the work of diverse thinkers such as Adam Smith, Paulo Freire, Grace Lee Boggs, and Stuart Hall. Kaufman's insights break the chains of cynicism and lay a foundation for more effective organizing.
Praise:
"There's a long-running conversation about what's wrong with our world and how to fix it. Ideas for Action fills in the 'backstory' that can help you to join that conversation."
—Jeremy Brecher, author of Strike!
"This an extraordinary book made attractive by its optimism, passion, and brainpower. Ideas for Action is unblemished, stimulating and unusually bold in its critiques and alternatives. It's a profound and panoramic exploration work of the most powerful and practical ideas needed for a true, radical social change. Professor Kaufman not only points us to the right direction, but also articulates those practical steps in the context of a troubling globalized neoliberal politics."
—john a. powell, director of the Haas Institute for a Fair and Inclusive Society, UC-Berkeley, and author of Racing for Justice
"Having cut her teeth in the 1980s Central American solidarity movement and continuing today as a local tenants' rights activist, Cynthia Kaufman weaves her story into a brilliant and seamless theoretical work on radical activism in the United States. Although Kaufman holds a doctorate in philosophy, and her deep and extensive knowledge of political theory from Karl Marx to Stuart Hall is clearly presented, this book is no academic monograph, rather a manual for organizers and for the people. Kaufman's modest yet sure voice is that of the best of feminist and social justice writing today."
—Roxanne Dunbar-Ortiz, author of Outlaw Woman
"What is remarkable about Cynthia Kaufman's book Ideas for Action is how it steps back from our day-to-day struggles to gain historical and theoretical perspective, and then moves forward again to use these perspectives for the solution of specific, immediate problems. The book ranges broadly over many contemporary problems, and manages to be both theoretical and practical in the analysis of these problems."
—Howard Zinn, author of A People's History of the United States
"The world is in dire need of hope. Right now people are encouraged to be suspicious, authoritarian, belligerent, and hateful rather than to be hopeful. As intellectuals and scholars we are needed more than ever, especially by young people, to shine a light on the possibility of social change. Professor Kaufman does just that in this book. In her own words, she hopes to 'stimulate thought and encourage wondering'—two things we are in desperate need of. A wonderful book well worth reading and giving to others."
—Aída Hurtado, author of The Color of Privilege
"Ideas for Action makes it plain! This is an excellent and very readable overview of what's wrong with the world and about how we can work to make it better. Kaufman explains a great deal—capitalism, globalization, racial and gender inequality, the threatened environment—in a way that is both accessible and sophisticated. She never loses sight of the practical issues: the need for change, and ways to make change for the better. I particularly liked her treatment of racism as an injustice to everybody. Ideas for Action will be a great textbook for many courses in many subject areas."
—Howard Winant, author of The World Is a Ghetto
About the Author:
Cynthia Kaufman is the director of the Vasconcellos Institute for Democracy in Action, where she also teaches community organizing and philosophy. The author of Getting Past Capitalism: History, Vision, Hope (Lexington Books, 2012), she is a lifelong social change activist, having worked on issues such as tenants' rights, police abuse, union organizing, international politics, and most recently climate change.
See and hear more on Cynthia Kaufman's page HERE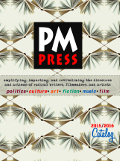 Your cart is currently empty
Subtotal: $0.00