The War of 33: Letters from Beirut (DVD)
SKU:
9781604860139
Publisher:
Big Noise Tactical Media and PM Press
ISBN:
9781604860139
Published:
3/2008
UPC:
022891473893
Format:
DVD (NTSC)
Length:
35 Minutes
Size:
5.5 x 7.5
Subjects:
Documentary, Middle East
The War of 33 is an intimate, personal and powerful telling of the story of the 2006 war in Lebanon. A series of letters written by Hanady Salman—a mother living through the war in Beirut—carve a narrative arc through the intense and haunting images of conflict. She tells the stories of her family and the people she lives the war with—the refugees, the wounded, and the everyday Lebanese, struggling to maintain their sanity and their humanity during a time of war.
The War of 33 is more than a document of a particular historical experience. What emerges is a universal story—a complex picture of love, pain, resistance and survival in the face of uncertainty and violence.
About Big Noise:
Big Noise Tactical Media is a collective of media-makers dedicated to circulating beautiful, passionate, revolutionary images.
See and hear film maker interviews, book reviews, and other news on Big Noise Tactical Media's page HERE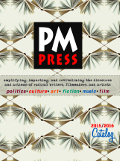 Your cart is currently empty
Subtotal: $0.00