Anthropology, Ecology, and Anarchism: A Brian Morris Reader
SKU:
9781604860931
Author:
Brian Morris • Introduction by Peter Marshall
Publisher:
PM Press
ISBN:
9781604860931
Published:
12/14
Format:
Paperback
Size:
9 x 6
Page count:
288
Subjects:
Politics-Anarchism/ Social Science-Anthropology
Over the course of a long career, Brian Morris has created an impressive body of engaging and insightful writings—from social anthropology and ethnography to politics, history, and philosophy—that have made these subjects accessible to the layperson without sacrificing analytical rigor. But until now, the essays collected here, originally published in obscure journals and political magazines, have been largely unavailable to the broad readership to which they are so naturally suited. The opposite of arcane, specialized writing, Morris's work takes an interdisciplinary approach that moves seamlessly among topics, offering up coherent and practical connections between his various scholarly interests and his deeply held commitment to anarchist politics and thought.
Approached in this way, anthropology and ecology are largely untapped veins whose relevance for anarchism and other traditions of social thought have only recently begun to be explored and debated. But there is a long history of anarchist writers drawing upon works in those related fields. Morris's essays both explore past connections and suggest ways that broad currents of anarchist thought will have new and ever-emerging relevance for anthropology and many other ways of understanding social relationships. His writings avoid the constraints of dogma and reach across an impressive array of topics to give readers a lucid orientation within these traditions and point to new ways to confront common challenges.
Praise:
"Brian Morris blazed a lot of trails. He is a scholar of genuine daring and great humanity, and his work deserves to be read and debated for a very long time to come."
—David Graeber, author of Debt: The First 5,000 Years
"This is a marvelously original book bursting with new ideas. I have read it with enormous interest and admiration. This collection of essays is an outstanding contribution to anthropology, environmental thought, and anarchism."
—Andrej Grubacic, professor and department chair in Anthropology and Social Change, California Institute of Integral Studies
"Before there was 'anarchist anthropology,' there was Brian Morris. This collection introduces the work of an intrepid pioneer, taking anarchist perspectives to where you would least expect them."
—Gabriel Kuhn, editor and translator of All Power to the Councils! A Documentary History of the German Revolution of 1918–1919, Liberating Society from the State and Other Writings by Erich Mühsam, and Revolution and Other Writings by Gustav Landauer
"Brian Morris's scholarship is nothing if not compendious. . . . Morris's achievement is formidable. His control of such a breadth of material is enviable, and his style is always lucid. He makes difficult work accessible. His prose conveys the unmistakable impression of a superb and meticulous lecturer at work."
—Anthony P. Cohen, University of Edinburgh
"Morris's acerbic analysis of established literature is matched by nuanced ethnographic analysis. . . . He writes accessibly about complicated matters."
—Allen F. Roberts, University of California, Los Angeles
About Brian Morris:
Brian Morris is professor emeritus of anthropology at Goldsmiths College, London. He received a doctorate in social anthropology at the London School of Economics and Political Science, having done his PhD fieldwork among hunter-gatherers in Southern India. Prior to his academic career, he worked as a tea planter in Malawi where he has done extensive fieldwork. He has written books and articles on topics including ecology, botany, philosophy, history, religion, anthropology, ethnobiology, and social anarchism. After discovering anarchist thought in the mid-1960s, he remained active in various protests and political movements. His previous political books include The Anarchist Geographer: An Introduction to the Life of Peter Kropotkin; Kropotkin: The Politics of Community; Ecology and Anarchism: Essays and Reviews on Contemporary Thought; and Bakunin: The Philosophy of Freedom.
About Peter Marshall:
Peter Marshall is a philosopher, historian, biographer, travel writer, and poet. He has written fifteen highly acclaimed books, including the landmark history of anarchism, Demanding the Impossible. His circumnavigation of Africa was made into a six-part TV series and his voyage around Ireland into a BBC Radio series.
See and hear author interviews, book reviews, and other news on Brian Morris's page HERE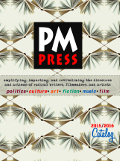 Your cart is currently empty
Subtotal: $0.00