Soft Money
SKU:
9781604866803
Author:
Ken Wishnia • Introduction by Gary Phillips
Publisher:
PM Press
ISBN:
9781604866803
Published:
4/2013
Format:
Paperback
Size:
5 x 8
Page count:
288
Subjects:
Fiction/Mystery
Even the best cops burn out. 23 Shades of Black's Filomena Buscarsela returns, having traded in her uniform for the trials of single motherhood. Once a cop, always a cop. She may have left the department, but Filomena's passion for justice burns as hot as ever. And when the owner of her neighborhood bodega is murdered—just another "ethnic" crime that will probably go unsolved and unavenged—Filomena doesn't need much prodding from the dead man's grieving sister to step in. Secretly partnered with a rookie cop, she hits the Washington Heights streets to smoke out the trigger-happy punks who ended an innocent life as callously as if they were blowing out a match.
From the labyrinthine subway tunnels of upper Broadway to the upscale enclaves that house the rich and beautiful, from local barrio hangouts to high-priced seats of power, Filomena follows a trail of dirty secrets and dirtier politics, with some unexpected stops in between. In a town big enough to hold every kind of criminal, crackpot, liar, and thief, from ruthless gangsters to corporate executives drunk on greed and power, she tracks a killer through the city's danger zones.
Praise:
"Great fun…Fil is a hyperbolic character, spewing enough acerbic opinions to fill half a dozen average mysteries. A spirited sequel."
—Publishers Weekly
"Wishnia's world is like a New York subway train—fast, loud, dirty, and dangerous—but it's well worth the ride with Filomena Buscarsela in the driver's seat. A hard-edged story gracefully told."
—Booklist
"Sharp and sexy... Hilarious and exciting... [Wishnia] has a perfect ear for female urban angst."
—Chicago Tribune
"Nonstop activity, wry humor, mordant characterizations, and a solid dollop of police procedure make this a hugely appealing follow-up to 23 Shades of Black."
—Library Journal
"Sizzling...memorable characters, genuine surprises, and fine writing... 23 Shades of Black took the mystery world by storm. Soft Money keeps the winds in full swirl."
—Book Page
About the Author:
Kenneth Wishnia's novels include 23 Shades of Black, an Edgar Allan Poe Award and Anthony Award finalist; Soft Money, a Library Journal Best Mystery of the Year; and Red House, a Washington Post "Rave" Book of the Year and The Fifth Servant, an Indie Notable selection, a Jewish Press Best Mystery of the Year, winner of a Premio Letterario ADEI-WIZO, and a finalist for the Sue Feder Memorial Historical Mystery Award. His short stories have appeared in Ellery Queen, Alfred Hitchcock, Queens Noir, Long Island Noir, Send My Love and a Molotov Cocktail, and elsewhere. His latest novel, The Fifth Servant, was an Indie Notable selection, a Best Jewish Book of the Year according to the Association of Jewish Libraries, won a Premio Letterario ADEI-WIZO (the Italian chapter of the Women's International Zionist Organization), and was a finalist for the Sue Feder Memorial Historical Mystery Award, a category of the Macavity Awards. Most recently, he edited the Anthony Award-nominated anthology Jewish Noir for PM Press. He teaches writing, literature and other deviant forms of thought at Suffolk Community College on Long Island.
About Gary Phillips (Introduction)
Gary Phillips writes tales of mayhem and menace. In other pursuits he's been a union rep, run a nonprofit begun as a response to the '92 L.A. riots, taught incarcerated youth, was a community organizer in South Central Los Angeles where he was born and raised, toiled as a printer, worked for one of those shadowy 527s, and delivered dog cages. Please visit his website at: www.gdphillips.com.
See and hear author interviews, book reviews, and other news on Kenneth Wishnia's page HERE

Click here for one-page information sheet on this product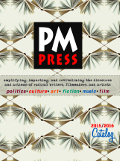 Your cart is currently empty
Subtotal: $0.00