Love and Struggle: My Life in SDS, the Weather Underground, and Beyond (e-Book)
SKU:
9781604863192d
Author:
David Gilbert • Foreword by Boots Riley
Publisher:
PM Press
ISBN:
9781604863192
Published:
1/2012
Format:
PDF, ePub, Mobi
Size:
6 x 9
Page count:
352
Subjects:
Autobiography, Politics-Activism
A nice Jewish boy from suburban Boston—hell, an Eagle Scout!—David Gilbert arrived at Columbia University just in time for the explosive Sixties. From the early anti-Vietnam War protests to the founding of SDS, from the Columbia Strike to the tragedy of the Townhouse, Gilbert was on the scene: as organizer, theoretician, and above all, activist. He was among the first militants who went underground to build the clandestine resistance to war and racism known as "Weatherman." And he was among the last to emerge, in captivity, after the disaster of the 1981 Brink's robbery, an attempted expropriation that resulted in four deaths and long prison terms. In this extraordinary memoir, written from the maximum-security prison where he has lived for almost thirty years, Gilbert tells the intensely personal story of his own Long March from liberal to radical to revolutionary.

Today a beloved and admired mentor to a new generation of activists, he assesses with rare humor, with an understanding stripped of illusions, and with uncommon candor the errors and advances, terrors and triumphs of the Sixties and beyond. It's a battle that was far from won, but is still not lost: the struggle to build a new world, and the love that drives that effort. A cautionary tale and a how-to as well, Love and Struggle is a book as candid, uncompromising, and humane as its author.
Praise:
"Gilbert adds heart and bone to the stuff of history." —Mumia Abu-Jamal
"Required reading for anyone interested in the history of radical movements in this country. An honest, vivid portrait of a life spent passionately fighting for justice. In telling his story, Gilbert also reveals the history of left struggles in the 1960s and 70s, and imparts important lessons for today's activists." —Jordan Flaherty, author of Floodlines: Community and Resistance from Katrina to the Jena Six
"David's is a unique and necessary voice forged in the growing American gulag, the underbelly of the 'land of the free,' offering a focused and unassailable critique as well as a vision of a world that could be but is not yet—a place of peace and love, joy and justice." —Bill Ayers, author of Fugitive Days and Teaching Toward Freedom
"Like many of his contemporaries, David Gilbert gambled his life on a vision of a more just and generous world. His particular bet cost him the last three decades in prison, and whether or not you agree with his youthful decision, you can be the beneficiary of his years of deep thought, reflection, and analysis on the reality we all share. If there is any benefit to prison, what some refer to as 'the involuntary monastery,' it may well look like this book. I urge you to read it." —Peter Coyote, actor, author of Sleeping Where I Fall
"This book should stimulate learning from our political prisoners, but more importantly it challenges us to work to free them, and in doing so take the best of our history forward." —Susan Rosenberg, author of An American Radical

About the Author:
One of America's most celebrated political prisoners since his appearance in the Academy Award nominated film, The Weather Underground, David Gilbert is also the author of No Surrender, a book of essays on politics and history. He can be reached at Wende Correctional Facility, 3040 Wende Road, Alden, NY 14004 as 83-A-6158.
About Boots Riley (foreword):
A popular leader in the progressive struggle for radical change through culture, Boots Riley is best known as the leader of The Coup, the seminal hip-hop group from Oakland, CA. Billboard Magazine declared the group "the best hip-hop act of the past decade." Riley recently teamed with Tom Morello (of Rage Against the Machine) to form the revolutionary new group, Street Sweeper Social Club.
See and hear author interviews, book reviews, and other news on David Gilbert's page HERE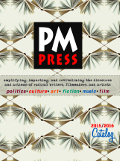 Your cart is currently empty
Subtotal: $0.00