The Jena 6 (DVD)
SKU:
9781604860115
Narrated by :
Mumia Abu-Jamal
Publisher:
Big Noise Tactical Media and PM Press
Size:
5.5 x 7.5
Length:
30 Minutes
Language:
English
Format:
DVD (NTSC)
UPC:
022891473794
Published:
3/2008
ISBN:
9781604860115
Subjects:
Documentary, Social Justice
Jena, LA: In a small town in Louisiana, six families are fighting for their sons' lives.
Two nooses are left as a warning to black students trying to integrate their playground, fights break out across town, a white man pulls a shotgun on black students, someone burns down most of the school, the DA puts six black students on trial for attempted murder,and the quiet town of Jena becomes the site of the largest civil rights demonstration in the South since the 1960s.
About Big Noise:
Big Noise Tactical Media is a collective of media-makers dedicated to circulating beautiful, passionate, revolutionary images.
See and hear film maker interviews, book reviews, and other news on Big Noise Tactical Media's page HERE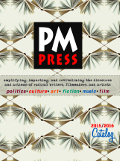 Your cart is currently empty
Subtotal: $0.00