Spray Paint the Walls: The Story of Black Flag
SKU:
9781604864182
Author:
Stevie Chick
Publisher:
PM Press
ISBN:
9781604864182
Published:
8/2011
Format:
Paperback
Size:
6 x 9
Page count:
432
Subjects:
Music-Punk
Black Flag were the pioneers of American Hardcore, and this is their blood-spattered story.
Formed in Hermosa Beach, California, in 1978, for eight brutal years they made and played brilliant, ugly, no-holds-barred music on a self-appointed touring circuit of America's clubs, squats, and community halls. They fought with everybody: the police, the record industry and even their own fans. They toured overseas on pennies a day and did it in beat-up trucks and vans.
Spray Paint the Walls tells Black Flag's story from the inside, drawing on exclusive interviews with the group's members, their contemporaries, and the bands they inspired. It's the story of Henry Rollins, and his journey from fan to iconic frontman. And it's the story of Greg Ginn, who turned his electronics company into one of the world's most influential independent record labels while leading Black Flag from punk's three-chord frenzy into heavy metal and free-jazz. Featuring over 30 photos of the band from Glen E. Friedman, Edward Colver, and others.
Praise:
"Neither Greg Ginn nor Henry Rollins sat for interviews but their voices are included from earlier interviews, and more importantly Chuck Dukowski spoke to Chick—a first I believe. The story, laid out from the band's earliest practices in 1976 to its end ten years later, makes a far more dramatic book than the usual shelf-fillers with their stretch to make the empty stories of various chart-toppers sound exciting and crucial and against the odds."
—Joe Carducci, formerly of SST Records
"Here is an exhaustive prequel to, followed by a more balanced re-telling of, Rollins' Get in the Van journal, chronicling Flag's emergence in suburban Hermosa Beach, far from the trendy Hollywood scene (Germs, X, etc.) and how their ultra-harsh, hi-speed riffage sparked moshpit violence—initially fun, but soon aggravated by jocks and riot police. Greg Ginn, their aloof guitarist/slave-driver/ideologue dominates in absentia. Gradually, he fires everyone but Rollins, yet, his pan-American shoestring SST empire is relentlessly inspirational. A gory, gobsmacking read."
—Andrew Perry, MOJO
"Chick's analytical and in-depth biography of the progenitors of SoCal Hardcore builds up to a page-turning, scene-setting climax… Chick does a fine job of detailing the importance, influence and dedicated touring ethic of the band. Not to mention finally laying to rest the ludicrous but long-running Stalinesque punk rock opinion that of all Flag's diverse career output, only the material before Rollins joined was of any value."
—Alex Burrows, Classic Rock
"Chick's well-researched and readable book immerses the reader in Black Flag's world, recreating the violent yet creative atmosphere of the early Hardcore scene through new interviews with the band and their peers."
—Mat Croft, Record Collector
About the Author:
Stevie Chick has been writing about music for more than ten years, contributing to such titles as MOJO, The Guardian, Kerrang!, NME, Melody Maker and Careless Talk Costs Lives and editing underground rock magazine Loose Lips Sink Ships with photographer Steve Gullick. He is the author of Psychic Confusion: The Sonic Youth Story. He lives in South London.
See and hear author interviews, book reviews, and other news on Stevie Chick's page HERE

Click here for one-page information sheet on this product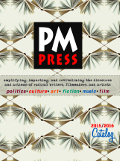 Your cart is currently empty
Subtotal: $0.00