This is What Democracy Looks Like (DVD)
SKU:
9781604863680
Publisher:
Big Noise Tactical Media
ISBN:
9781604863680
UPC :
760137513094
Format:
DVD (NTSC)
Length:
60 Minutes
Size :
5.5 x 7.5
Subtitles:
Spanish
Subjects:
Documentary, Current Events
This Is What Democracy Looks Like, a co-production of the IMC and Big Noise Films, weaves the footage of over 100 videographers into a gripping document of what really happened on Seattle's streets. The film cuts through the confusion and tear gas to paint an intimate, passionate portrait of a week that changed the world. With narration by Susan Sarandon and Spearhead's Michael Franti, and with a driving soundtrack including Rage Against the Machine, DJ Shadow, DJ Musaka, and Company of Prophets, This Is What Democracy Looks Like is the first documentary to capture the raw energy of the WTO protests, while clarifying their global and historic significance.
The Independent Media Center provided a production infrastructure for over 450 media activists during the WTO protests in November 1999. With autonomous, volunteer-run media centers operating in four continents, ten countries and twenty-one cities, the IMC represents a new and powerful emerging model for independent media.
Special features include complete interviews with Subcomandante Marcos and Noam Chomsky, additional video shorts, action guide and photo slideshow.
Praise:
"A truly ground-breaking accomplishment! Beautiful, passionate, stunning… it embodies the spirit of the protests."
—Naomi Klein, author of No Logo and The Shock Doctrine
"Democracy is pepper spray to your cynicism. "
—San Francisco Examiner
"This documentary, like the protest, turns Art into Action."
—The Village Voice
About the Producers:
Big Noise Tactical Media is a collective of media-makers dedicated to circulating beautiful, passionate, revolutionary images.
See and hear film maker interviews, book reviews, and other news on Big Noise Tactical Media's page HERE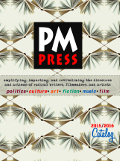 Your cart is currently empty
Subtotal: $0.00