The Fourth World War (DVD)
SKU:
9781604863673
Publisher:
Big Noise Tactical Media
ISBN:
9781604863673
UPC:
760137512899
Format:
DVD (NTSC)
Length:
75 Minutes
Size:
5.5 x 7.5
Subtitles:
French/Spanish
Subjects:
Documentary, Current Events
From the front-lines of conflicts in Mexico, Argentina, South Africa, Palestine, Korea, and the North; from Seattle to Genova, and the War on Terror in New York, Afghanistan, and Iraq, The Fourth World War is the story of men and women around the world who resist being annihilated in this war.
While our airwaves are crowded with talk of a new world war, narrated by generals and filmed from the noses of bombs, the human story of this global conflict remains untold. The Fourth World War brings together the images and voices of the war on the ground. It is a story of a war without end and of those who resist.
The product of over two years of filming on the inside of movements on five continents, The Fourth World War is a film that would have been unimaginable at any other moment in history. Directed by the makers of This Is What Democracy Looks Like and Zapatista, produced through a global network of independent media and activist groups, it is a truly global film from our global movement.
Narrated by Michael Franti and Suheir Hammad
Praise:
"A powerful, radical cry from the frontlines of the war on people. This film captures the spirit of resistance: it is as beautiful and global as humanity itself"
—Naomi Klein, author of No Logo and The Shock Doctrine
"Inspirational. Essential. It documents the history of the future before it is born… and while we can still do something about it."
—Peter Wintonick, POV Magazine
"A daring, courageous, heart-pounding intervention against empire."
—Patricia Zimmermann, author of States of Emergency
About the Producers:
Big Noise Tactical Media is a collective of media-makers dedicated to circulating beautiful, passionate, revolutionary images.
See and hear film maker interviews, book reviews, and other news on Big Noise Tactical Media's page HERE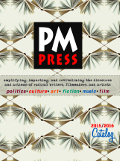 Your cart is currently empty
Subtotal: $0.00