A Home Yoga Companion: How to Safely Develop Your Own Yoga Practice While Stuck at Home During a Global Pandemic
SKU:
HomeYoga
Author:
Bob Ostertag
Series:
PM Press
Published:
04/2020
Format:
ePub, PDF, KPF
Size:
8.5x11
Pages:
130
Subjects:
Yoga, Quarantine
Like almost everything else, this book changed with the arrival of COVID-19.
BEFORE: There were plenty of good reasons to develop a home yoga practice before the pandemic: save money, prevent injury, go deeper into meditation, tailor your practice to your own body, and, most of all, to do more yoga.
AFTER: For many people around the world, a home yoga practice is the only yoga available. If we are not going to do yoga at home, we are not going to do yoga at all.
So we have rushed to make this book available as a free e-book. A modest but hopefully helpful contribution to the unprecedented coming together of people all over the world in the face of the pandemic.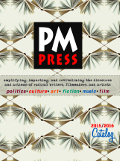 Your cart is currently empty
Subtotal: $0.00