Advertising Shits in Your Head: Strategies for Resistance (e-Book)
SKU:
9781629635743d
Author:
Vyvian Raoul and Matt Bonner • Introduction: Josh MacPhee
Publisher:
PM Press
ISBN:
9781629635743 (paperback), 9781629637013 (hardcover)
Published:
03/2019
Format:
ePub, PDF, mobi
Size:
5 x 7
Page count:
208
Subjects:
Politics-Activism / Street Art
Advertising Shits in Your Head calls adverts what they are—a powerful means of control through manipulation—and highlights how people across the world are fighting back. It diagnoses the problem and offers practical tips for a DIY remedy. Faced with an ad-saturated world, activists are fighting back, equipped with stencils, printers, high-visibility vests, and utility tools. Their aim is to subvert the adverts that control us.
With case studies from both sides of the Atlantic, this book showcases the ways in which small groups of activists are taking on corporations and states at their own game: propaganda. This international edition includes an illustrated introduction from Josh MacPhee, case studies and interviews with Art in Ad Places, Public Ad Campaign, Resistance Is Female, Brandalism, and Special Patrol Group, plus photography from Luna Park and Jordan Seiler.
This is a call-to-arts for a generation raised on adverts. Beginning with a rich and detailed analysis of the pernicious hold advertising has on our lives, the book then moves on to offer practical solutions and guidance on how to subvert the ads. Using a combination of ethnographic research and theoretical analysis, Advertising Shits in Your Head investigates the claims made by subvertising practitioners and shows how they impact their practice.
Praise:
"Advertising Shits in Your Head provides a history of the practice (going back to the early '70s), alarming research and theory on the effects of the industry, advice about how to take part (including legal information) as well as several stunning case studies. This is essential reading for all who want to fight back against the 'most powerful and sustained system of propaganda in human history.'"
—Jamie Kelsey-Fry, New Internationalist
"Advertising Shits in Your Head concisely describes, through unique firsthand accounts, the range of concerns addressed by today's subvertising community. From a right to the city argument, to the belief that advertising is the biggest obstacle to avoiding catastrophic climate change, the book envisions a movement looking far beyond culture jamming and corporate identity sabotage."
—Jordan Seiler, Public Ad Campaign
"Advertising Shits in Your Head gives form and context to culture-jamming practices in the twenty-first century. Providing important theoretical and historical context that unites the twin strands of activism—creativity and resistance—it shows how creative minds are getting together in the age of digital networks to hack space and place, and challenge the presence of capitalist values within our public, private, and cultural spaces. Advertisers most definitely shit in your head: this book is here to stop them."
—Bill Posters, Brandalism
"Advertising is a gigantic machine for creating human misery. It's a sustained psychological assault on the population and it is hard to overstate the brutal and permanent damage it does to us as individuals, to society, and to the planet itself. This book is a manual on how to begin the process of dismantling the machinery of advertising: how to interrupt it, sabotage it, and one day, maybe, destroy it entirely."
—Darren Cullen, Spelling Mistakes Cost Lives
"Once advertising has shit in your head, you're going to need something to clean it up with; I couldn't recommend this book more highly."
—Dr. D, London-based subvertiser and scoundrel
About the Contributors:
Vyvian Raoul is a writer and an editor at Dog Section Press.
Matt Bonner is a graphic artist, designer, and social justice campaigner based in London.
Josh MacPhee is a designer, artist, activist, and archivist. He is a member of both the Justseeds Artists' Cooperative (Justseeds.org) and the Occuprint collective (Occuprint.org). He is the coauthor of Signs of Change: Social Movement Cultures 1960s to Now, coeditor of Signal: A Journal of International Political Graphics & Culture, and cofounder of the Interference Archive, a public collection of cultural materials produced by social movements (InterferenceArchive.org).
See and hear author interviews, book reviews, and other news on Vyvian Raoul's Page HERE and Matt Bonner's Page HERE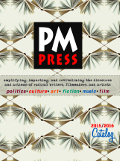 Your cart is currently empty
Subtotal: $0.00