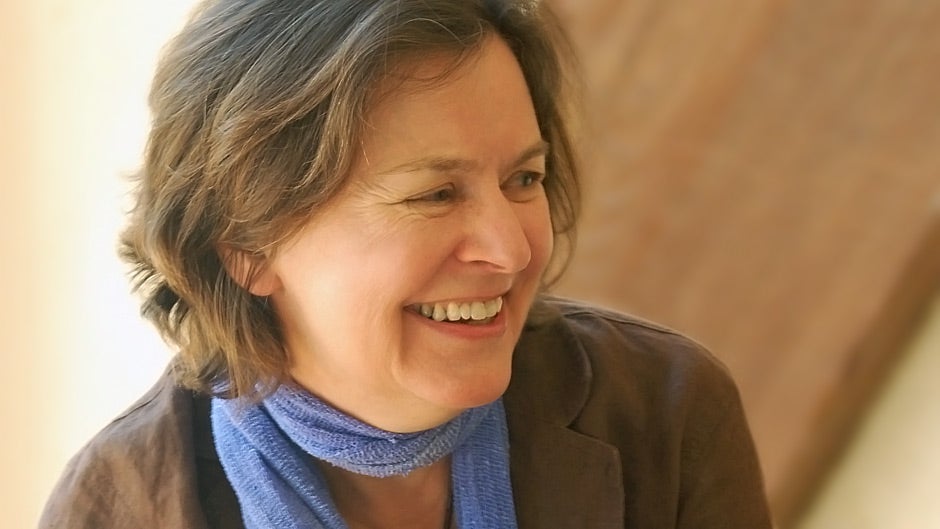 Authors
Karen Joy Fowler
Indulge in a book or dvd
Book and movie events
Get the latest news
What others are saying...
For more from Karen

Well known in the mainstream for her New York Times bestseller, The Jane Austen Book Club, Karen Joy Fowler is a well-respected and considerable force in SF and Fantasy as well. She is a two-time winner of the Nebula and World Fantasy awards, and cofounder of the Tiptree Award, given for works dealing with the politics of sex and gender.

Purchasing Links

The Science of Herself
Author: Karen Joy Fowler
Publisher: PM Press/Outspoken Authors
ISBN: 978-1-60486-825-8
Published: 10/01/2013
Format: Paperback
Size: 7.5x5
Page count: 128 Pages
Subjects: Science Fiction/Women's Studies
$12.00

Widely respected in the so-called "mainstream" for her New York Times bestselling novels, Karen Joy Fowler is also a formidable, often controversial, and always exuberant presence in Science Fiction. Here she debuts a provocative new story written especially for this series. Set in the days of Darwin, "The Science of Herself" is a marvelous hybrid of SF and historical fiction: the almost-true story of England's first female paleontologist who took on the Victorian old-boy establishment armed with only her own fierce intelligence—and an arsenal of dino bones.

Plus...
"The Pelican Bar," a homely tale of family ties that makes Guantánamo look like summer camp; "The Further Adventures of the Invisible Man," a droll tale of sports, shoplifting and teen sex; and "The Motherhood Statement," a quietly angry upending of easy assumptions that shows off Fowler's deep radicalism and impatience with conservative homilies and liberal pieties alike.

And Featuring: our Outspoken Interview in which Fowler prophesies California's fate, reveals the role of bad movies in good marriages, and intimates that girls just want to have fun (which means make trouble).
Praise:
"No contemporary writer creates characters more appealing, or examines them with greater acuity and forgiveness, than she does."
—Michael Chabon, author of The Amazing Adventures of Kavalier & Clay
"Fowler's witty writing is a joy to read."
—USA Today
"An astonishing narrative voice, at once lyric and ironic, satiric and nostalgic… Fowler can tell stories that engage and enchant."
—San Francisco Chronicle
"Fowler manages to re-create both life's extraordinary and its ordinary magic."
—New York Times Book Review
"Unforgettable… incandescent… bewitching."
—Los Angeles Times Book Review
Buy book now
|
Download e-Book now
|
Read Reviews
|
Return to top
Events
For a calendar of speaking events, please click here
Latest Blog Entries
What Others Are Saying...
Reviews
Interviews & Mentions
The Science of Herself: A Review
by Gabriel Carlyle
Peace News
October- November 2014

Most people who've heard of Karen Joy Fowler probably know her through her 2004 New York Times bestseller The Jane Austen Book Club, which got turned into a Hollywood film and was chosen as a title for the Richard & Judy book club. However, if you've never read her then you shouldn't let the latter facts put you off, for Fowler is a delightful writer with a strong feminist sensibility, and this book – comprised of three short stories, an interview and a brief essay – provides an excellent brief taster of her work.

The stories explore torture, the life of the remarkable 19th century paleontologist Mary Anning, and the trials and tribulations of the sport-averse son of a gutsy single-mother...
Read more
|
Buy book now
|
Download e-Book now
|
Back to reviews
|
Back to top
The Science of Herself: A Review
By Timmi Duchamp
Ambling Along the Aqueduct
August 24th, 2014

By the time I finished reading the second page of "The Science of Herself," which opens the volume, I'd fallen hard for it. The seaside village of Lyme Regis in the first decades of the nineteenth century? How could any voracious reader not think first of Anne Elliot watching Captain Wentworth as he fails to catch Louisa Musgrove when she willfully throws herself off the stairs, in Jane Austen's last novel, Persuasion? Fowler takes Anne Elliot's visit to Lyme Regis as her point of departure, leading to imagining Austen herself walking that beach and not seeing (yes, yes , not seeing) a young girl who was often to be found on that beach. "Strangely deressed, lower class, odd in affect, and desperately poor, she was not really the kind of girl who wanders into an Austen novel." (2) But then Fowler quickly goes on to note that Austen's visit to Lyme Regis had actually been made to see this girl's father, Richard Anning, a cabinetmaker. The connection between the unnoticed young girl and Jane Austen, though virtually invisible to the casual eye, is actual.
Read more
|
Buy book now
|
Download e-Book now
|
Back to reviews
|
Back to top
Karen Joy Fowler Wins Pen/Faulkner Fiction Prize
by Allan Kozinn
The New York Times
ArtsBeat
April 2nd, 2014

FKaren Joy Fowler, a novelist known for her science fiction and for stories set in the 19th century, is the winner of the 2014 PEN/Faulkner Award for Fiction for "We Are All Completely Beside Ourselves" (G.P. Putnam's Sons), a novel with a contemporary setting. The $15,000 prize, which was announced on Wednesday by the directors of the award, will be presented at a ceremony at the Folger Shakespeare Library in Washington on May 10.

Ms. Fowler's novel focuses on Rosemary Cooke, the 22-year old daughter of an Indiana University psychology professor, whose family was disrupted in the aftermath of a peculiar psychological experiment that Rosemary's father conducted when she was a child. It was chosen by a panel of three judges – the novelists Madison Smartt Bell, Manuel Muñoz and Achy Obejas – from among more than 430 novels and short story collections by American authors published in the United States in 2013.
Read more
|
Buy book now
|
Download e-Book now
|
Back to reviews
|
Back to top

The Science of Herself: A Starred Review
Publishers Weekly
February 2014

Fowler (We Are All Completely Beside Ourselves) is best known for her novels, but these selections showcase her range and agility with briefer forms. Set in Lyme Regis, England, in 1814, "The Science of Herself" draws on the true story of Mary Anning and mixes it with the work and life of Jane Austen. An essay, "The Motherhood Statement," calls for change in science fiction terminology and assumptions, and Fowler's persuasive ideas on the amorphousness of motherhood are illuminated further in "The Pelican Bar," set in a remarkably vivid, terrifying, and Atwood-esque boarding school run by the decidedly nonmaternal Mama Strong. In "The Further Adventures of the Invisible Man," narrator Nathan deals with bullies; his single mother hardly notices. An informal interview conducted by Outspoken Authors series editor Terry Bisson serves as an entryway into Fowler's mind, revealing her politics, sensibility, sense of humor, interests and influences, and approaches to writing and teaching. This is a must-own for diehard Fowler fans, and an ideal pocket-sized primer for the uninitiated. Agent: Molly Friedrich, Friedrich Agency.
Buy book now
|
Download e-Book now
|
Back to reviews
|
Back to top
More from Karen...